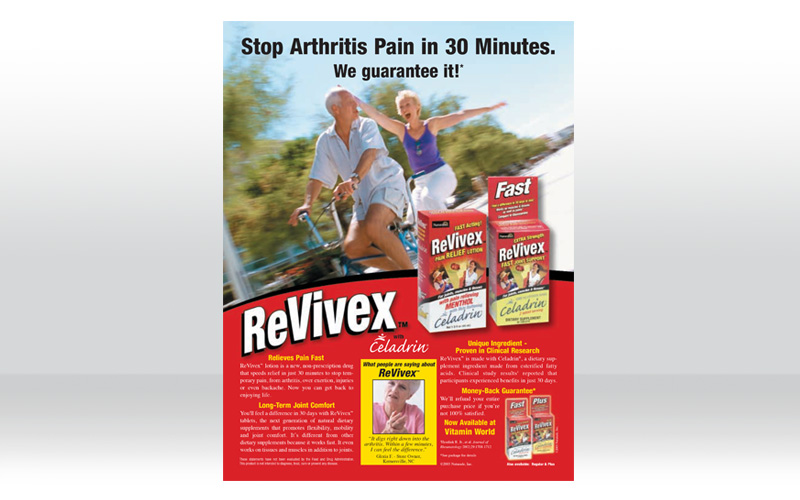 1 Billion Impression TV, Radio, Print, Public Relations Campaign
Brand: ReVivex Pain Relief Lotion and Fast Joint Support
Company: Naturade, Inc.
Problem/Opportunity:
Naturade needed to drive distribution and consumer takeaway of the new ReVivex brand, but didn't have the cash flow to support the big budget consumer spending required by mass retailers.  Any spending could only be funded from new revenue.
Solution:
Hazlin mounted an introductory campaign that launched ReVivex into 15,000 retail outlets delivering nearly 1 billion advertising impressions.  The "guerilla marketing" campaign that he personally planned and executed as the in-house agency, cost less than $600k using discounted newspapers and magazines, infomercials and supplier paid PR.
KEYWORDS
Strategic Problem Solving
Science-Based Claims
FDA Regulatory Compliance
Branding
Corporate Strategy & Business Plans
TV, Print & Radio Campaigns
Financial Planning
Sales Force Organization
Advertising & Promotion
Natural & Organic Ingredients
Nutraceuticals & Phytonutrients
OTC Drugs & Devices
Vitamins & Dietary Supplements
Entrepreneurial – Start-up